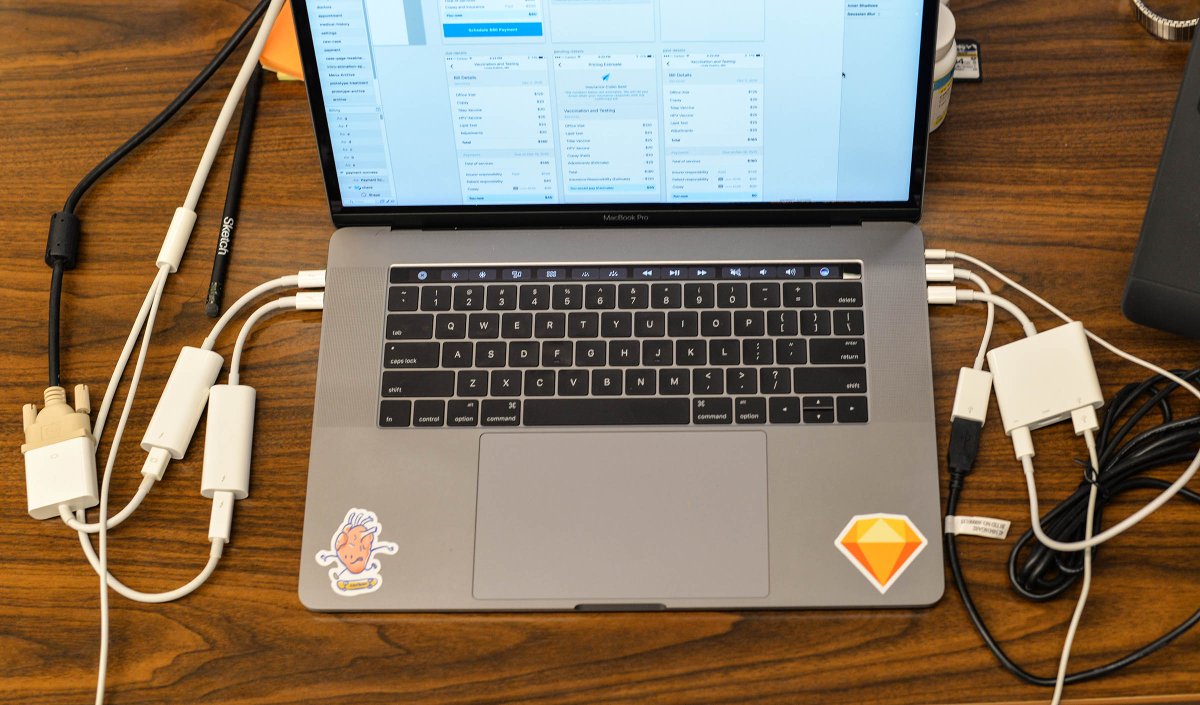 You do realize that most of these are peripherals are going to be USB type c within a year right? The same happened when Apple started using USB for keyboards when the rest of the world was using I/O inputs. Constantly berating the choices Apple has made is a bit circle-jerky and doesn't contribute to the design community at all.

I had to use my older MacBook Pro to be able to get this pic since I still don't have the SD card dongle. COURAGE :)

Same thoughts here.

Also, people seem to forget that an older gen of MacBook Pros would basically be the same picture without the dongles: lot's of cables connected to MacBook Pro, except the latter would be thicker and more chunky.

How do you like the touch bar? Is it useful or just a gimmick?

There are bunch of reviews already that basically come down to this: depends on the app. For some, it's useful. For others, not so much. It will all depend on how app designers take advantage of it and understand the users.

I definitely forsee an interesting future for the Mac, so not a gimmick.

(This is all without having actually seen one in person so I may change my mind.)

Nice dongle collection. Do they have names?

Would ya look what we 'ave here!

I ordered one of these from Satechi to my new Macbook Pro (which I haven't gotten yet obviously...) This actually will make my everyday docking a bit easier. Currently I plug in five cables to my old Macbook Air every morning when I get to the office.

Oh my god, you need to use a dongle to connect a device...wait for it... that you were already going to connect to your computer. The horror. How dare Apple not force everyone to make their devices completely wireless. I get people dislike dongles but you were going to connect all this shit to your computer regardless, so who cares if you need to add a .3m dongle to make it happen. You make this sound like it requires a degree in astrophysics to complete the task. And WTF?!? You connected a DVI or VGA device to your MBP because? You were going to need a converter for this anyway so it's safe to say this doesn't really count. If Apple waited for manufacturers to convert everything to USB-C we'd be waiting for a very long time. I for one applaud Apple for pushing standards forward.

Shit, I just realized the headphone jack is on the right side now? :(

Those stickers tho. Gotta get me a sketch sticker

What devices are connected? I'm guessing one of them is an Apple Cinema Display. And the black one on the right is probably a printer?

How about the serial port? Who uses those nowadays?

Left: - Cintiq 21 - Thunderbolt Display .

Right: - Headphones - USB to Cintiq - USB to iPhone + Power .

Can't you run your USB devices off the thunderbolt display ports?

Well sure, but then the picture wouldn't have been as funny. ;)

Fors some reason the thunderbolt display doesn't recognize the USB from a Cintiq, so I do have to connect it directly to the computer. But yeah, the iPhone USB is totally unnecessary on the computer but I still need to use that port for power :)

"The most powerful and versatile port ever."

Wondering why hasn't anyone asked this before – Do you miss the tactile "esc" button?

Lots of peripherals you have there. Until everything switches to USB-C next year, why didn't you at least get a single, nice, and tidy hub?